How to Create a Good Blog
How to create a good blog post? Do I add punctuation? Will the blog get any SEO traction?
Whew – those are loaded questions in the vast ocean of "good blogging," and unfortunately,
there are a lot of sharks waiting to take your space on relevant search engines. However, in
order to discuss how to create a good blog, let's first talk goals, keywords, and of course,
strategy.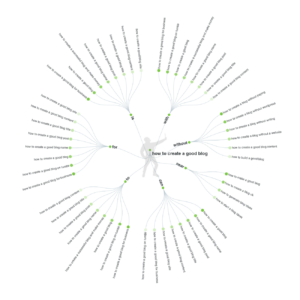 Image adapted from answerthepublic.com, 2022
GOALS
• What question are you trying to answer? Blog
about something, people will want to know the
answer to that is relative to your topic.
• Who is your target audience? Write to them.
• Understand and place your keywords
strategically in your blog's title, links, images
and descriptions.
KEYWORDS
• Identify quality keywords.
• Think of ways to overlap, multiple keywords to
optimize your SEO matches.
• Google suggestions are your friend. Google
has organically acquired the largest
conglomeration of data relating to searches –
take the free suggestions.
STRATEGY
• Target the correct search volume in the
competitive niche you are trying to reach.
• Organic SEO placement occurs with phrase
matches and what's related; create workable
variations to achieve this hierarchy.
• Be creatively competitive with your keywords
and content. In other words, do your research.
The big picture of how to create a good blog comes with creative content, competitive
keywords, and practical insight into what your audience wants to learn about. There are more
ways than one to research, plan and write, but lucky for you, your search found this blog. YCS
Marketing is pretty dang good at creating web identity, brand management, social media,
blogging, and even have the largest network of digital consumer benefits.
Visit us @ www.ycsmarketing.com