Google Business Profile or Google My Business, What's the Difference?
Google Business Profile or Google My Business, what's the difference might be the most effortless read ever. They are the same thing! Google My Business (GMB) was rebranded to Google Business Profile (GBP) in July 2022. Now, if you are a new business owner asking whether you need a GBP, that answer is 100 percent. Every month people visit 1.5 billion locations related to their Google searches (SOURCE). That is SEO and local visibility that cannot be ignored. 
The internet is like a giant playground, and as a business, you want to be in Google's sandbox. Google receives more than 3.5 billion daily searches, with almost half of those searches including local content (SOURCE).
What is a Google Business Profile (GBP)?
A

GBP

is a free tool for businesses to connect with customers.

Increases visibility both online as well as on Google Maps. Google searches, including "near me," have increased by over

250%

in the last two years (

SOURCE

)

Increases credibility through Google Reviews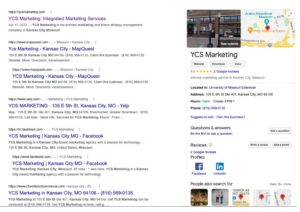 How to set up a GBP?
The profile is set up and managed through Google Search and Maps.

There are many features in your business profile to manage. The essential elements are selecting the correct primary category, adding photos, and creating an accurate business description

Remember that anyone online can contribute to your GBP. Ultimately, it is your responsibility to manage the content that is there.
There have been some suggestions that Google will stop catering to small businesses, but for the time being, that change hasn't happened. The one thing that we do know is that digital consumer behavior and how they find and interact with businesses is guaranteed to change. Google will continue to evolve right along with them.  Our local expert, Kiff Forbush, YCS Marketing's VP of Operations and Business Development, states, "An up-to-date GBP is like opening the door for your consumers to visit. Accurate hours of operation, location, and Google reviews are worth their weight in gold to your business and your consumers."  Contact us @ ycsmarketing.com to learn more about setting up your GBP.